New Pike House is done and is full of active members.    Recent pictures.
The new house is being built as we speak.   Still on schedule to be ready in the fall of 2017.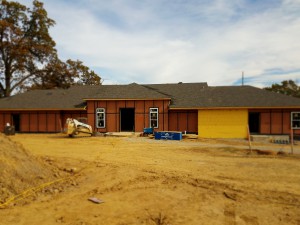 This is an artist  rendering of what the new Pike House at SEMO will look like.   It is proposed to be done Fall 2017.
This is the current site plan that will show the placement of the SEMO Pike house in the new Greek Row.  It is located next to the Show-Me Center.
Finally this is what the internal blueprint for the house will be in Phase 1.   We are looking at the possibility of Phase 2 once details of Phase 1 are finalized.
————————————————————————————————————————
General History of the Project
This project became a realistic possibility in May of 2015 (started discussions in August of 2014).   This is an exciting opportunity for Pi Kappa Alpha as it was presented with the opportunity to be one of the first three groups to move into a new facility due to its history (2018 will be 60 years of operation), chapter strength, and alumni support over the years.
How do we know we can trust SEMO?
For starters, SEMO is investing over $10M in this project for phase 1 which only involves three structures. The total investment by SEMO will be in excess of $50M. Universities do not invest that kind of money unless they are supportive of their Greek Community.
In addition, Epsilon Iota has two Board of Regents members in Ed Gargas and Jay Knudtson who are able to advocate on our behalf. There are also TKE and Delta Chi alumni presently on the board.
When will the building be complete / chapter move in?
Assuming the alumni meet the fundraising requirements, students would be eligible to move in August of 2017 which encompasses Phase 1 of the Project.
What does Phase 1 vs. Phase 2 of this project entail?
Phase 1 is slated for completion in August of 2017 as indicated above which will allow 22 men to occupy the facility. Phase two permits an additional wing to be constructed once additional funds are contributed to the SEMO Foundation. Work on Phase 2 can begin in 2020 and will allow for an additional 14 men to live in the new facility, bringing the house capacity to 36 beds.
What will happen to K building?
Pi Kappa Alpha will continue to occupy K building until the new facility is complete. Once PIKE students are eligible to move in to the new facility, the current plan is to maintain some footprint in the existing K building, perhaps 1-2 floors for members desiring to live in a chapter facility beyond the available space in the new facility.
Epsilon Iota Leadership
Who is leading this effort on behalf of Epsilon Iota?
Larry Eby, Regional President & AAB MemberLarry.Eby@vastbroadband.com
Kyle Vogt, House Corporation President….kyle@klanceunlimited.com
Robert Guard, Chapter Advisor…. RGuard@mrvbanks.com
Jim Gleason, AAB Member. EJ Foreman, EIAA President.
Scott Brothers, House Corporation Treasurer
Jeremy Koerber, House Corporation Secretary
Matt Ramshaw, EIAA President (Past)
Bryan Schubert, House Corporation Member
Trae Bertrand, House Corporation Member
J.J Schultz, House Corporation Member
Justin Buck, Pi Kappa Alpha Executive Vice President and CEO
This group is seeking additional volunteers to serve on the Leadership Team. It will be important to have all era's of Epsilon Iota represented in this effort. At present, we really need individuals from pre 1980 to assist.
How can I get more involved? 
There are many ways to get involved. Communicating the effort around this project in a positive and consistent message is of critical importance. If you wish to participate in the leadership team, please contact one of the individuals above. And most importantly, financially. While the way in which to most effectively accomplish the solicitations is being developed, the success of this project will ultimately lie in each alumnus' willingness to support this project in a meaningful way.
Fundraising Process
How much money are we trying to raise?
The exact dollar figure will be determined through the feasibility study, however, there is a minimum requirement of $450,000. However, the feasibility study will help determine what dollar figure can be raised. The more funds that are raised, the better long term position the chapter and house corporation will be in without the need to raise additional funds at a future date or put the chapter in an financial position which could negatively impact performance and membership.
Why did EI elect to hire a professional fundraiser?
With the scope of the project and being the largest fundraising effort in Epsilon Iota history it was agreed upon by the Alumni Advisory Board, Housing Corp, and Alumni Association Board that volunteers trying to fundraise at this capacity could not attain the goal.  The firm hired, Pennington & Company is the leading fundraiser in the country for fraternity projects and has the expertise and logistical resources necessary to help us attain this goal.
What is a feasibility study?
An analysis of the ability to complete a project successfully, taking into account legal, economic, technological, scheduling and other factors. Rather than just diving into a project and hoping for the best, a feasibility study allows project managers to investigate the possible negative and positive outcomes of a project before investing too much time and money while trying to accomplish our maximum potential.
How is the feasibility study being paid for?
The feasibility study can be paid for out of early alumni contributions or the national fraternity has a loan program for these type of endeavors that enables the chapter to front the money to cover expenses which would be repaid at the conclusion of the fundraising effort.
Why can't alumni just raise this money on their own?
The work which has occurred thus far has already taken considerable time and resources of volunteers outside of their normal professional and personal commitments. However, there is considerable more work ahead involving strategy, logistics, organization, and execution. If we are to succeed at this effort, we will need the fundraising expertise which Pennington will provide. There is a reason why the largest and most successful foundations have full time staff's in place to execute these plans.
Why can't we get every alumnus to kick in $100-$500 to achieve our goal?
While this is a good model in theory, there is no major capital campaign in any industry that happens this way. On average, any fundraising effort usually sees support of 25-35% of the eligible population. Because of the overall success of EI, we are hopeful that percentage is higher, but we cannot count on it. Even if all 1319 living alumni of EI contributed $100 that would not be enough money. Moreover, the true structure of any capital campaign relies on a gift "pyramid" which will involve several individuals making gifts at high dollar amounts with numerous others contributing at meaningful levels as well. That is why when it comes time for solicitations, we will be challenging everyone to make their best gift.
Funding Needs
Will my donation be tax deductible?
Based on the scope of the project, the leadership team is trying to maximize the amount of tax deductible dollars eligible for this project. At the same time, there are elements of this project including furniture, fixtures, security allowances, and a host of other items which the house corporation will need to fund that do not qualify according to IRS standards for tax deductibility.
Most major fundraising initiatives have a minimum gift threshold to allow for tax deductibility. The feasibility study will help us determine what that amount is, especially for our largest donors.
According to fundraising counsel it is standard to have a mix of tax deductible and non tax deductible donations in any effort.
What is the money being used for:
The exact amounts and needs are still to be determined. However, deposits requirements and scholarships with the SEMO Foundation will be included. An additional year of debt service, Furniture, Scholarships for Recruitment, future house expansion, and K building upgrades are additional options.
When do we need the money by?
The short answer is as soon as possible. The reality is there are some due dates that SEMO has which we need to meet in order to commence with building construction and occupancy. We are trying to work with the school to identify some flexibility around those dates to maximize alumni donor ability to make as meaningful a gift as possible.
Who does the money go to?
The SEMO Foundation and the EI House Corporation will be the two primary beneficiaries of the dollars raised. The leadership team is trying to determine exactly the priority and strategy for meeting the needs of those two entities in an effective manner.
What will happen to the money that SEMO Collects?
All dollars raised through the SEMO foundation will exist in an account earmarked for PIKE Housing Updates and Scholarships. Both the necessary building deposit and scholarships ($145,000 minimum) will produce a 5% "spend-rate" which the chapter will be eligible to apply for to use for scholarships to attend leadership programming and/or chapter scholarships.
Ownership / Lease Structure
What are the Lease Terms?
The structure involves a ground lease for the facility between SEMO and the Epsilon Iota House Corporation. The House Corp will then sublease to individual tenants. The term is a 1 year lease with 29 automatic renewals.
Chapter Performance
How is the Chapter Doing Right Now?
The chapter has been consistently one of the top Chapters at Southeast in most of the major categories year in and year out.
Scholarship- we had 4 members with a prefect 4.0 gpa and 33 members have over a 3.00 average gpa.
Leadership- we have the most Resident Assistants, 4 members, on campus out of all of the fraternities. 3 members serving on the senate in Student Government.
Athletics – Pike came in first athletics in Fall 2015. Currently 2nd overall in intramurals this semester.
Image on campus – we are the second largest fraternity on campus and the most socially preferred with the sorority population.
24 members attended PikeU in Kansas last fall and 3 members attended the CEC in Memphis this January
We are still figuring out who all will be available to attend the New Orleans convention in August. No less than 4.
What happens if the Chapter Closes?
All of the money in the Southeast Foundation for housing and Scholarship will remain in custodial account for future Epsilon Iota use and make 5% return until the mandatory blackout (suspension) period has passed at which time a recolonization effort would go into effect allowing for the scholarship and housing monies to assist in that effort.    The house corporation would be able to sub-lease the property during that time to another Greek tenant or student organization.