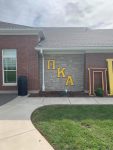 and they look great.
Mark your calendar!! Here are the 4 main events we will be putting on during the next 12 months.
October 10th 2020 – Corn Hole Tournament
December 5th 2020 – Top Golf Top Shot Championships
April 24th 2021 – Pike Alumni Golf Tournament
July 2021 – Budweiser Brewhouse Cardinals Game
We will be releasing details for each main event roughly 30/45 days out. We will be having small social gatherings in between events and will be posting those 1-2 weeks in advance for those who want to attend. This should give everybody enough time to get it on their schedule and get payments turned in if needed. Please let me know if you have any questions. Corn Hole Tournament details and sign ups will start next week. Hope to see everybody there.
Please keep adding all your SEMO Alumni brothers! Thank you!
I hope everyone is doing well and staying healthy through these difficult times. We are currently planning an event for late summer/early fall. Details will be released soon.
Everyone please take a moment to invite all of your fellow SEMO Pike Brothers to this page. We currently have around 300 likes/followers on this page. The more people invited, the better our turnout will be for events. Thank you!
ITB
Brother Gabe Wegmann
Postponed – Alumni Weekend 2020
Due to the current Pandemic we are postponing Alumni Weekend until a later date.  Stay tuned for an update once we have more clarity on the situation.
***Anyone who has paid for golf should have seen a refund, if not please contact us immediately.  4/22/2020***
It's hard to believe almost a year has passed since the 2019 Alumni Weekend/Golf Tournament. The golf outing was one of the best I can remember, with over 80 alumni gathered to play golf, share stories and enjoy the fellowship of brotherhood spanning six decades of EI Pikes. I look forward to this year's event, and want to share with you some information regarding it.
Although many alumni come down the Friday before the golf tournament, this year's Alumni Weekend will officially begin on Saturday, April 25 with our golf tournament. Once again, the tournament will be held at Dalhousie Golf Club, located at 4700 Cord's Way, Cape Girardeau, MO 63701. For more information about the golf course, please visit Dalhousie's website at http://www.dalhousiegolfclub.com/.
The format for the tournament is 4-man scramble, with a shotgun start at 12:30. Lunch will be provided at the pavilion at 11:30. A variety of beverages will be provided as well – thank you to Brother Mike Kohlfeld and the Brothers Patterson! The tournament field is limited to 80 golfers (20 teams), so please don't delay in signing up.
You may register yourself or your team for the tournament by visiting event caddy at https://app.eventcaddy.com/even…/2020-pike-alumni-tournament. Once in the site, payment instructions are provided. Or, if you prefer you may send your payment to Mark Zieres, at 1719 Potomac Pl, Cape Girardeau, MO 63701. Mark and Robbie Guard are chairing the golf tournament again this year. Feel free to reach out to either of them or me via email with any questions you may have. Robbie Guard RGuard@mrvbanks.com; Mark Zieres mark.zieres@drurysouthwest.com; David Jones davidjones@montgomerybank.com.
If golf is not your thing, please join us at Dogwood Social House following the golf tournament around 6:30. If you have never been there, you will be amazed. Dogwood is located at 80 South Plaza Way, Cape Girardeau, MO 63703.
I look forward to seeing you on April 24 and 25.
Fraternally – David Jones
Seasons Greetings ,
The Pike and Friends Christmas Get Together this year is on Wednesday December 11th at 6:00pm
Brick House Tavern and Tap.
2 McBride and Son Center
Chesterfield, MO 63005
We had over 60 in attendance last year and a great time was had by the Pike's and Friends.
Hope to see you this year 👍
Contact Karl Ritter for more details.